Show us your Smiley Face Biscuits to win!
Smiley Face biscuits
(You can use this same recipe to create all sorts of biscuit shapes.)
Share a photo of your finished biscuits with us using #lockdownbaking on instagram or facebook for the chance to win a prize!*
Ingredients
380g (13oz) Plain flour
125g (4oz) Caster sugar
1 large egg yolk
250g (8oz) softened butter (cut into little cubes)
1tsp vanilla extract
For the filling
Raspberry Jam (seedless) – approx 1/4 jar – y0u can use any jam without bits if you don't have Raspberry in the cupboard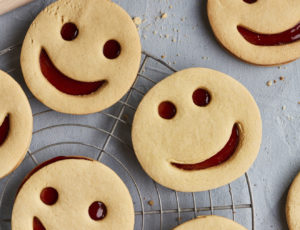 Method:
Preheat the oven to 170°C Fan assisted (Gas mark 3), or 180°C Non-fan assisted (Gas mark 4).
 Line 2 baking trays with baking paper, or grease with a little butter and dust with flour to prevent the biscuits sticking
Sift the flour and sugar into a large mixing bowl.
Add the cubes of butter. Stir until it looks like breadcrumbs.
Make a well in the mixture and add the egg yolk. Stir well so that the egg is completely combined into the mix and it becomes a dough.
Split the dough in half and put half of it to one side.
 Roll out the first half of the biscuit dough to approx 3 mm thick. Cut circles using a cookie cutter, or you can use a small mug or jam jar if you don't have one. Re-roll the dough and keep cutting until it's all used up. Use a slice or palette knife to transfer the circles to the baking tray. These are the biscuit bottoms.
Using the other half of the dough, do exactly the same again, making sure that you have the same number of circles as the first half of the dough. Using the end of a drinking straw, or the lid of a felt tip pen (washed first) to poke eyes into the circles. Then with the help of an adult, use a knife to cut a smiley mouth. These are the tops of your biscuits. Transfer to the other baking tray.
Bake in the oven for 12 to 15 minutes until the biscuits are lightly brown.
Take out of the oven and leave to cool on the trays for 5 mins before placing on a wire rack to cool completely.
Once completely cold. Spoon the jam onto each of the biscuit bottoms, then stick the faces on top!
*All entries to be received by 30th June 2020. 5 winners will receive a £20 Warrens Bakery gift voucher. Multiple entries allowed. Judges decision is final.