Show us your Gingerbread People to win!
Gingerbread People!
You can use this same recipe to create all sorts of gingerbread shapes – it doesn't just have to be people. Why not get creative and see if you can make your whole family?
Share a photo of your finished Gingerbread people with us using #lockdownbaking on instagram or facebook for the chance to win a prize!*
Ingredients
350g/12oz plain flour, plus extra for rolling out
1 tsp bicarbonate of soda
2 tsp ground ginger
1 tsp ground mixed spice (you can use cinnamon if you don't have mixed spice)
125g/4½oz butter
175g/6oz light soft brown sugar
1 free-range egg
4 tbsp golden syrup
To decorate
Strawberry jam
White cane sugar
or
Method
Pre-heat your oven to 170°C Fan assisted (Gas mark 3), or 180°C Non-fan assisted (Gas mark 4).
Line a baking tray with baking paper
Sift the flour, sugar, bicarbonate of soda, ground ginger, and mixed spice into a large mixing bowl and mix them together
Add the butter (cut into little cubes) and mix until it looks like breadcrumbs.
Stir in the sugar
Lightly beat the egg and golden syrup together.
Make a well in the flour mixture, and pour the syrup mixture into it. Keep mixing it with a wooden spoon until it becomes a dough. Dust your fingers with a little flour, and then bring the mixture together more with your hands if you need to.
Wrap the dough in cling film and chill it in the fridge for 15 mins
Make sure your work surface is clean and dry. Flour your work surface well, and flour your rolling pin. Roll the dough out and use a cookie cutter to cut out the people shapes. If you don't have a cookie cutter, make a template out of paper and ask an adult to trace round it with a knife. You could even do your dog or cat if you want to!
Lay the cut out shapes onto the lined baking tray. Keep re-rolling the dough until there isn't any left.
Bake for 12-15 minutes, or until they are golden brown.
Once out of the oven, leave them on the baking sheet for 5mins, and then move to a cooling rack until completely cold.
Add eyes, a mouth and buttons using little blobs of strawberry jam, OR mix your icing sugar with a bit of water to make icing and use this to create the faces and buttons.
Dust with a little bit of sugar to finish.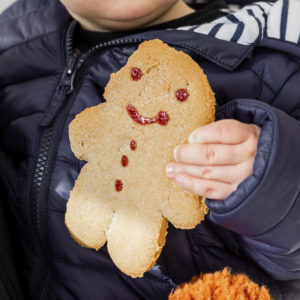 *All entries to be received by 30th June 2020. 5 winners will receive a £20 Warrens Bakery gift voucher. Multiple entries allowed. Judges decision is final.