Make your own Easter Egg Nests (and win!)
Chocolate Easter Egg Nests!
It's Easter Sunday this weekend, what better excuse to get baking and knock up some of these chocolatey, crunchy Easter Egg nests! Whether you're doing them with the kids, or just fancy a bit of old fashioned nostalgia, these are sure to put a smile on your face!
Share a photo of your Easter Egg Nests with us using #lockdownbaking on instagram or facebook for the chance to win a prize!*
Makes 12
Ingredients
225g (8oz) plain chocolate, broken into pieces
2 tbsp golden syrup
50g (2oz) butter, cut into little cubes
75g (2¾oz) cornflakes
To decorate
Method
Line a 12-hole fairy cake tin with paper cases. (If you don't have cases, grease the tin with butter and dust with a little flour.)

Melt the chocolate, golden syrup and butter in a bowl set over a saucepan of gently simmering water (make sure the bowl is big enough so that the base doesn't touch the water). Stir the mixture until smooth.

Remove the bowl from the heat and gently stir in the cornflakes until all of the cereal is coated in the chocolate.

Divide the mixture between the paper cases and press 3 chocolate eggs into the centre of each nest. Chill in the fridge for 1 hour, or until completely set.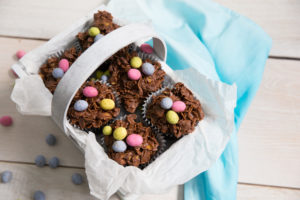 *All entries to be received by 30th June 2020. 5 winners will receive a £20 Warrens Bakery gift voucher. Multiple entries allowed. Judges decision is final.