Time For Tiger Bread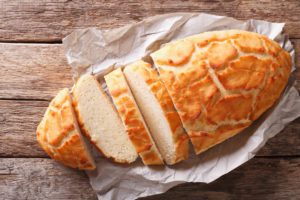 Tiger bread or rolls are a big customer favourite at Warrens Bakery so while the majority of our stores are still closed we thought we'd share a recipe for you to try at home.
This heavenly bread, orginally created by the Dutch, is one the hardest thing to resist when coming out of the ovens; the soft, fluffy dough encased in crunchy, caramelized topping made from yeast, rice flour and toasted sesame oil, which gives it an incredible aroma.
You can use it for sandwiches, toast, dipped in soup or even scooped out and filled with delicious fillings, there are so many ways to enjoy it, we'll let you decide.
Ingredients
600g strong white bread flour
400ml warm water (300ml cold + 100ml boiling)
½ sachet dry instant yeast (or 1 tsp from a jar)
1 tsp table salt
1 tsp sugar
1 tsp olive oil
25ml toasted sesame seed oil*
*The amount of sesame seed oil can be varied, depending on how much of its flavour is desired. Balance the change with the amount of warm water, so the total liquid volume is 425ml.
Tiger Paste Topping
2 tsp yeast
90ml warm water (60ml cold + 30ml boiling)
2 tsp sugar
2 tsp toasted sesame seed oil
75g rice flour
Method
Put the dry ingredients in bowl. Add the water and mix together to form a wet dough. Cover the bowl and rest the dough for 20 mins.
Turn the dough out of the bowl onto a lightly oiled worksurface.
Stretch and knead the dough for 15 seconds only
Repeat step 2 and 3 twice more on a lightly floured (not oiled) worksurface.
Leave the dough until it has risen 50%. Meanwhile, mix together paste topping ingredients in another mixing bowl, cover and set aside.
Turn the dough onto floured worksurface, knead and shape into a single rounded loaf shape or smaller rolls.
Using a pastry brush, coat the dough's surface with the paste, covering top and sides. Cover, leave until risen by 50%.
Preheat fan oven to 200C (220C for non-fan ovens).
It's important to add a small amount of moisture to the oven. When the oven is at temperature, open and spray water inside (10-12 sprays), then close briefly and let it get back up to temperature again before adding the dough in.
Bake for 25-30 minutes, until the crust is cracked and golden brown.
After about five minutes the crust will begin to crack, it's fun to watch through the oven door glass.
A very small amount of charring at the edges of the cracked tiles is fine
Cool on a rack.
Top Tips
Unlike other bread recipes, do not score the dough at any stage or spray with water partway through the bake.