Making life taste better in Penzance – relaunch of Warrens' flagship store in Cornwall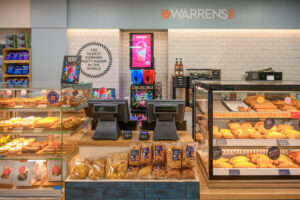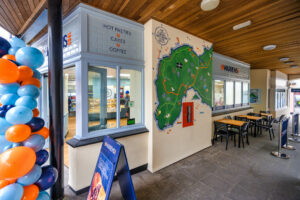 We marked St Piran's weekend and the end of Cornish Pasty Week with the reopening of its store in Wharfside Shopping Centre, Penzance. One of our best performing stores in Cornwall, Wharfside closed for refurbishment earlier this year, and relaunched on Saturday with a new look that proved a big hit with customers. 
To celebrate, there was music in the form of Cornish folk songs, and dancing from Pensans Morris. A map-themed mural by artist Hermione Mills was also unveiled on Wharfside's external wall bringing a splash of colour and an informative point of interest to the walkway.
There was steady trade throughout the day, with customers commenting on how much bigger, lighter and brighter the store felt. 
As well as the traditional pasties, savouries and cakes, the store in Market Jew Street has introduced Penzance to Tango Ice Blast, a slushie-type drink which is already popular with the town's teenagers. New products for spring, including a Moroccan lamb pasty, a cauliflower cheese pasty and a Rolo Doughnut, will be available in store from March 20.
Group marketing director Louise Moye said: "It was lovely to be able to re-open one of our flagship Cornish stores at the end of Cornish Pasty Week and on St Piran's weekend after a fantastic redevelopment. 
"With the Warrens Bakery history firmly embedded in south-west Cornwall, we are proud to still have a great presence in Penzance and see this investment as a sign of our commitment to the town.
"With the introduction of Tango Ice Blast alongside all of our heritage pasties, we are confident that Warrens will remain a family favourite on the high street for generations to come."
New stores in Barnstaple, Basingstoke and Bath are planned for 2023, and the rebrand of existing stores is scheduled for completion by mid-2024.
Pensans Morris are looking for people to join their dancers – to find out more, visit their Facebook page. www.facebook.com/pensansmorris