Cornish Pasty Week 2023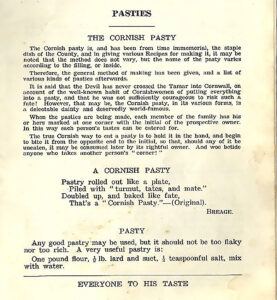 What makes the perfect pasty?
The image above is a page from the Cornish WI cookbook from 1965. The cookbook contains several different recipes for the famed Traditional Cornish pasty from WI members from across West Cornwall. Each has slightly different nuances and tweaks to make what they consider the perfect version.
Formed in 1915, the Women's Institute was originally brought to life to revitalise rural communities and encourage women to become more involved in producing food during the First World War. Since then the organisation's aims have broadened and the WI is now the
largest voluntary women's organisation in the UK.
The WI inspires women through experiences, knowledge and skills and provides women with educational opportunities and opportunity to build new skills. These are passed down through generations and continually updated to reflect the lives of women today.
If you are Cornish you will know about the long standing argument about how to make a
"proper Cornish pasty".
Just like in the WI, much debate surrounds the manufacture of the perfect pasty – the top crimp or side crimp, shortcrust or flaky pastry and which is considered more authentic. Onion, pepper, potato and swede (called turnip in Cornwall) are considered obligatory alongside steak or beef mince and the presence of carrots are considered an indication of inferior quality. In the late 19th and early 20th century the Cornish immigrant miners took their pasties around the world, often becoming a staple food in other mining areas, for example the empanada in Argentina, and the Jamaican Pattie.
Today Cornish pasties are one of the most well recognised food products in the UK, with a highly acclaimed Protected Geographical Indication badge (PGI).  This means that only pasties made in Cornwall can be called Cornish pasties. Even if they are sold in different parts of the country, they have to have been made in Cornwall to qualify.
The Cornish Pasty Association (CPA) was formed in 2002 and represents half of the pasty businesses in Cornwall to protect the quality and reputation of the Cornish Pasty makers.
Please follow the link to find out what formulates a "Proper Cornish Pasty"
---
Teaming up to fight food poverty in the South West
We are partnering with the Cornish Pasty Association during Cornish Pasty Week 2023 to donate 5p from every pasty sold to Devon & Cornwall Food Action (DCFA) to help alleviate food poverty.
Picture taken from the Cornish Federation of Women's Institutes 22nd Edition 1965
thewi.org.uk
Devonandcornwallfoodaction.org
Cornishpastyassociation.co.uk